What We Do
What We Are About
The Mission of the Oak Ridge Foundation is to support and enhance Oak Ridge High School and the El Dorado Hills Community by promoting interscholastic, academic, and cultural programs as well as capital improvements that promote continual learning.
We are a qualified 501(c)(3) charitable organization and are entirely non-profit. Your investment in ORHS will nuture and educate future generations of El Dorado Hills students. Every donation, no matter how large or small, counts!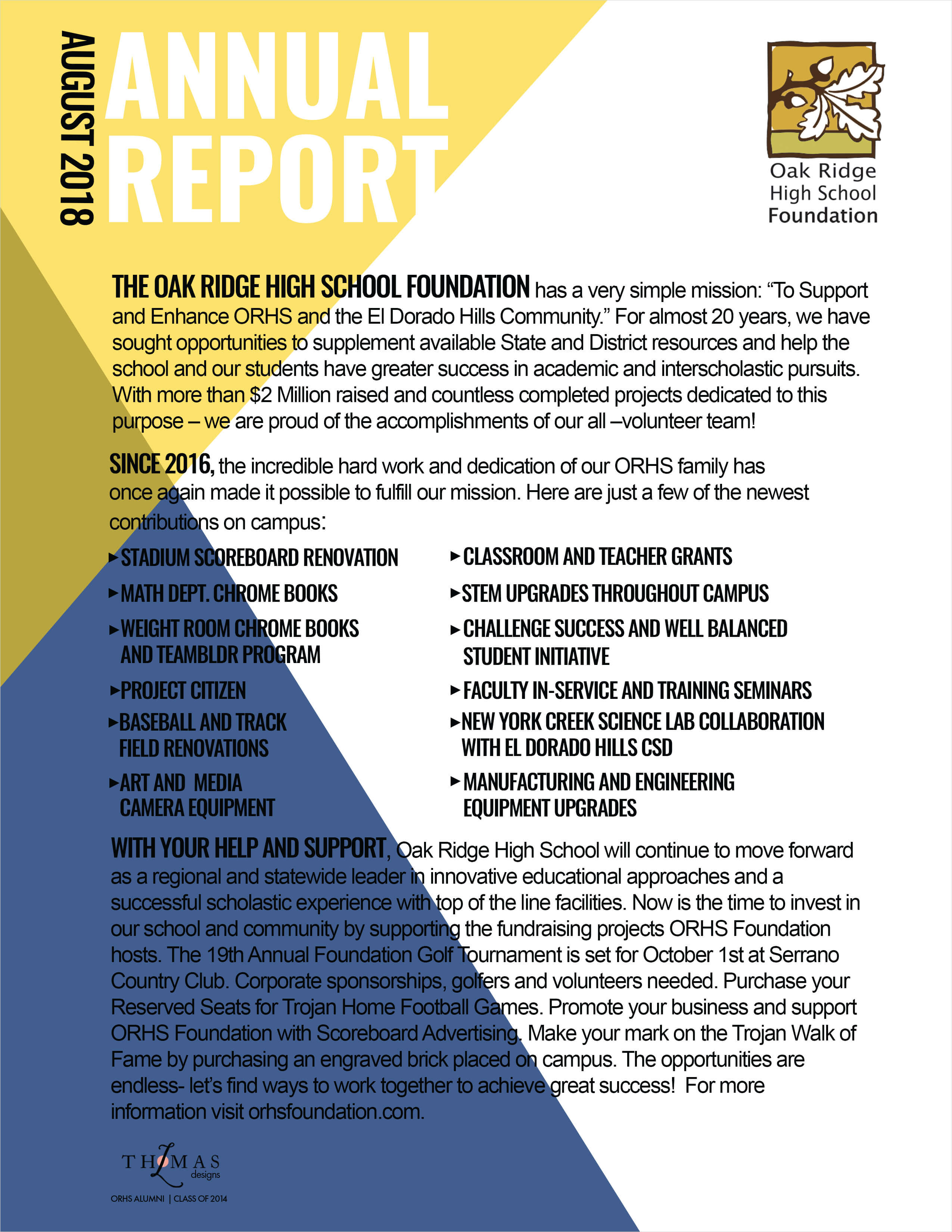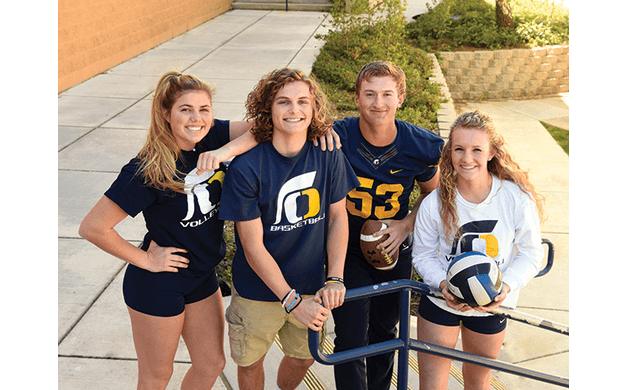 Cameryn Colle, Harrison Stone, Hayden Nabers and Alexa Van Komen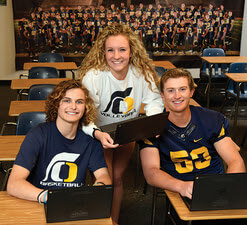 The members of the Oak Ridge High School Foundation are a tenacious bunch. In fact, you could say that just like Trojans, the school's mascot, this group of parents, alumni and community members are warriors—dauntless in their quest to make Oak Ridge High School one of the top-performing high schools in California.
The foundation wears its Trojan armor proudly and is confident in its mission "to support and enhance Oak Ridge High School and the El Dorado Hills community by promoting interscholastic, academic and cultural programs, as well as capital improvements that promote continual learning."
Nearly two decades ago—when Oak Ridge had a much smaller school population and El Dorado Hills was on the verge of a huge housing boom—Ann Root and Anthony Scotch recognized the need for the community to provide more to the school, so the two launched the foundation and began conducting fund-raisers and donation drives. One of their first contributions was assisting in building a new football stadium. "With vision, determination and hard work, Trojan Stadium rose to be the standard for the El Dorado Union High School District's athletic competition facilities," President Brooke Van Komen explains.
"Over the years, the foundation has donated more than $2 million to Oak Ridge. It has helped to upgrade and add to the funds from the district to provide more classroom technology, music and performing arts support, science equipment, gymnasium reconstruction, baseball and softball field renovation, netbooks, software, and the list goes on."
Van Komen has been involved with Oak Ridge High School for the past eight years in various capacities, including Sports Boosters, chairman of the Blue and Gold Auction, a parent volunteer supporting ASB Leadership, and secretary to the foundation before assuming her current role as president. "I literally became involved by going to teachers and administration and asking, 'How can I help?'" she says.
Currently, the foundation is collaborating with the El Dorado Hills Community Services District—along with the El Dorado Union High School District—to create an outdoor learning experience along the New York Creek Trail. "With curriculum from the State of California Education Environment Initiative, we hope to provide residents, educators and students with an outdoor lab experience for field trip opportunities and educational, family-friendly hikes," says Van Komen. "We also support the administration and faculty of Oak Ridge with ongoing teacher training, classroom grants and software updating."
This summer and fall, the foundation will coordinate a football ticket sale fund-raiser for the Trojans (reserved seats for all varsity home games—much like season tickets for college or pro teams). Plans are also in the works for the 18th annual ORHS Foundation Golf Tournament at Serrano Country Club on October 2.
"Proceeds [from] these and other activities go to the foundation for ongoing and future Oak Ridge projects," Van Komen emphasizes. "Anyone and everyone in El Dorado Hills benefits from the Oak Ridge High School Foundation and can become involved." www.orhsfoundation.com
by Janet Scherr // photos by Dante Fontana © Style Media Group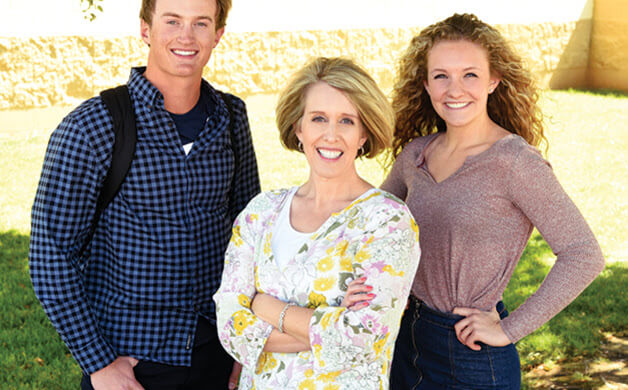 Hayden Nabers, Brooke Van Komen and Alexa Van Komen